Taekwondo Cambridge

Cambridge Taekwondo (CB1): Originally developed in Korea during the 1940's and 50's, Taekwondo is a fast combatative sport that has become increasingly popular over the last 30 years or so. For those of you who wish to bolster your self-respect, strengthen your mind and body, build your confidence and learn some useful self-defence techniques, Taekwondo could be the ideal hobby or fitness activity.
It has to be said that Taekwondo can be quite physically demanding, which might put off the older and less agile people in Cambridge from taking this up. To be fair, the most common participants of Taekwondo classes are children and the younger generation, but certainly older people who are in good physical health can easily take part and get benefits from this activity.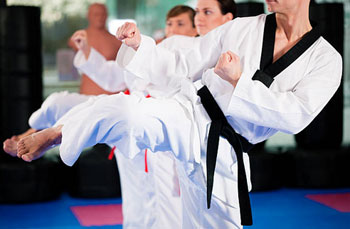 Taekwondo is a martial art that mainly consists of kicking manoeuvres, in particular head-height kicks, fast kicking techniques and spinning/jumping kicks. It began in Seoul, in southern Korea during the 1940's, when a group of martial arts specialists founded schools called "kwans", which blended various martial arts techniques.
With over sixty million people participating in Taekwondo classes all around the globe, this has certainly become an extremely popular activity, and if you become really expert at the sport you might even one day qualify for the Olympic Games, of which it has been a part since the Sydney Games in the year 2000.
For many people in Cambridge, it is the self-defence element of Taekwondo that is the most interesting. And its not a surprise that this is on people's list of priorities when you consider the rising levels of violence seen these days in town and city centres throughout the UK. Learning to defend yourself whilst applying self-restraint and a respect for others is a key benefit of Taekwondo.
While it will give you peace of mind knowing that you have these self-defence skills in your locker, the chances are that you'll never need to use them outside of an organized Taekwondo class.
Your First Class: If you decide to register for a Taekwondo class in Cambridge, the first thing you will want to know is what will happen on the first class and what will the tutor be expecting of you. Different Taekwondo masters in Cambridge will compile differing routines for this initial lesson but you can expect to do a 15 minute warm-up to get the blood flowing and loosen your muscles, learn a few forms (Poomse), cover some technical training (stances, kicks, blocks), do a bit of sparring, and lastly warm-down.
Taekwondo Forms (Patterns): Beginners in Taekwondo do not need to worry too much about forms (Poomse, patterns) at the outset but they will learn some basic ones to start with and progress to more complex forms as they move up the belts (grades/dans). A form is signified by certain aspects of Taekwondo including direction, technique and stance. Learning these sequences is an important part of mastering Taekwondo.
Safety Equipment: Safety gear such as blue or red body armour (hogu), shin guards, a blue/red head guard, a mouth protector, a groin protector, forearm guards and hand guards are used in all matches overseen by British Taekwondo. Protection from injury is necessary because of the powerful kicks that are part and parcel of this sport.
To Summarize: We cannot all be like Jade Jones or Lutalo Muhammad, and I guess that we wouldn't all want to be. Taekwondo isn't just about Olympic titles and National Championships. Most of us are happy to improve our fitness levels, make new friends and meet different people, and that is how it should be. However, as with most things in life, what you get out of it will depend on what you put into it. Good luck! 👊
Also find: Newmarket Taekwondo, Chesterton Taekwondo, Petersfield Taekwondo, Teversham Taekwondo, Grantchester Taekwondo, Cherry Hinton Taekwondo, Newtown Taekwondo, Girton Taekwondo, Cottenham Taekwondo, St Neots Taekwondo, Grantchester Meadows Taekwondo, Trumpington Taekwondo, Fen Ditton Taekwondo, Horningsea Taekwondo, Milton Taekwondo and more Taekwondo in Cambridgeshire.